Dato: 2008-06-24
How to get there
Follow RV287 north about 2.5 km past "Sigdal kjøkken" factory in Nedre Eggedal, turn left up to Grønhovd about 20m after a bridge crossing a small stream flowing into "Solevatn" (see googlemap below).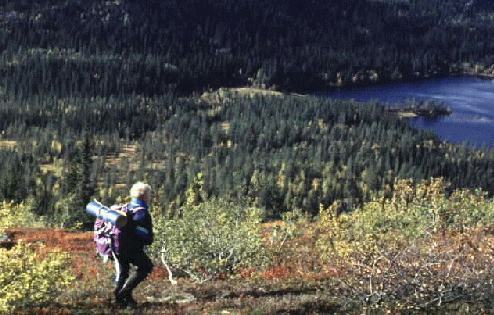 Then, follow the dirt road about 3 km up to the checkpoint (entry costs 30 NOK), and you can drive all the way to
Skoddølvannet
. From the end of the road, you can follow marked paths westward to
Vindolvannet
, at the heart of Trillemarka, or
Grunntjern
and the cabin there. The road is closed with a chain by
Skoddøl
.
In the wintertime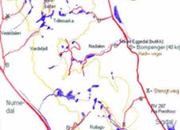 Map of roads (Click to enlarge)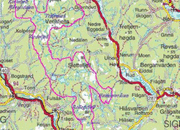 Map of Trillemarka (Click to enlarge)
the road is cleared for snow only up to the chekckpoint (which lies at about 400 metres above sea level), while scooter tracks follow the road further into Trillemarka. An alternative may be to start skiing from the end of the toll road that goes to the cabins near
Frøvollseter
(located at 830 metres above sea level). This toll road parts from the road from the center of
Eggedal
to
Vestbygda
after 3 km. You gain some height, and you can enter Trillemarka from the west, just south of
Snåra setra
(mountain dairy) (see the map).
How to get to [i]Rollagsfjell[/i]
The road along the river
Gryteelva
(Always cleared in the winter) parts to the north from the main road between
Prestfoss
(by
Sandsbråten
) and
Lyngdal
/
Lampeland
.The departure is 30 m east of a small bridge that crosses the river
Gryteelva
where it flows out into lake
Horgesætervannet
. This road is also a toll road (costs 40 NOK), it parts to the west to
Rollag
/
Bergangrendi
at the second exit 2 km from the checkpoint (the road to Rollag runs to the left).
Continuing straight northward instead, you'll see the lush and steep hill
Heimseteråsen
(with spruce as tall as 44 m!) in front to your right, when you drive across the dam by the water
Grytevatn
. The road continues another 5-6 km till it ends by lake
Nedre Tråenvann
(665 metres above sea level), an excellent starting point for (skiing) trips into the idyllic
Rollagsfjell
area.
On
Olav Traaen's web page
, you can find road directions and lodging from the west,
Numedal
/
Kongsberg
. Jorunn and Olav Traaen, tel (+47) 32 74 68 38, offers accommodation in idyllic timber houses and cabins. The good hunting and fishing opportunities also described there.
[Norsk tekst]
Bilder fra turen:
[Tilbake]